Complex PTSD Trauma and Recovery: Learn How Trauma Affects Self Esteem and the Strategies for Dealing with PTSD… [Audiobook]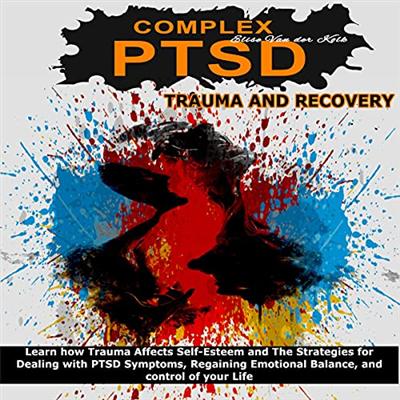 English | 2021 | ASIN: B08S3VDNW2 | 5 hours and 54 minutes |
In our modern times, it's a challenge to escape from the world. Soldiers and civilians alike are suffering from post-traumatic stress disorder (PTSD) struggling to survive on the street. Some opioid addicts feel as if there is no hope left. There are survivors of school shootings, Walmart shootings, and music festival shootings.
Countless millions suffer at the hands of a loved one. A challenge of trauma is that it does not strike and then vanish. It lingers on for years, leaching the energy and hope of its victims with merciless precision.
This book provides a way out. It reviews the symptoms, causes, and challenges involved in post-traumatic stress disorder. It covers the issues of post incarceration syndrome.
It works through the many ways of creating new pathways including meditation, self-awareness, grounding techniques, and more. By participating in the activities throughout this book, you will be guided to take that next step, create a path, and reach the happiness that was meant to be.
In this audiobook, you will discover:
How to distinguish PTSD from other related trauma-induced conditions, and what your plan of action should be in order to recover accordingly for a happier, healthier life
A breakdown of the five stages of PTSD recovery, as well as what identifying clues you should look out for that signify positive development in your healing process
The underestimated power of this number-one tool in your journey toward recovery, and how to incorporate it into your everyday routine to gain the most benefits (bonus: No extra spending is involved!)
The transformative thinking skill you need in your life that will not only help you heal faster, but will also lay a solid foundation for a practical, forward-thinking mind-set
Why scheduling alone-time into your day will prove to be one of the best approaches when it comes to rebuilding yourself, and how you should utilize that time to promote optimum health
The backlash PTSD can have on an individual's personal relationships, and what you can do to lessen your condition's impact while also strengthening your beloved connections
The key to imagining and creating a life beyond recovery, opening your eyes to the endless possibilities your future has to offer you
And much more!
If you've already tried one method of treatment for PTSD yet experienced no positive results, there are still multiple other options available for you to test out, so don't get discouraged. Every person heals uniquely to the next, which means you need to find the method that works solely for you.
Keep in mind that treatment doesn't automatically mean having to go to therapy – plenty of alternative ways to heal exist, allowing you to choose whatever feels most comfortable for you. This also means that it doesn't matter whether you have the funds to support expensive approaches or not, as you will be able to get the help you need regardless.
DOWNLOAD
(Buy premium account for maximum speed and resuming ability)