Serenade to the Big Bird: The True Account of Life and Death from Inside a B 17 Cockpit in WWII (Audiobook)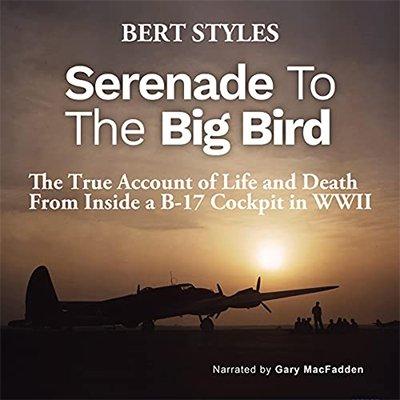 English | 2021 |
This is the nonfiction memoir of a young pilot, Bert Stiles, who flew 35 missions in the B-17 Flying Fortress over Germany and Italy during World War II. At 22 years of age, Stiles left college and joined the American Air Force. The next year he began his tour of duty as a copilot of a B-17, flying missions high over Germany, Italy, and other European targets, bombing cities far below.
Stiles was assigned to the 401st Bomb Squadron, 91st Bomb Group at Bassingbourn, England. He initially flew missions with 2nd Lieutenant Sam Newton, who had been a fraternity brother at Colorado College. Their first bombing mission, to Kassel, Germany, was flown on April 19, 1944. The crew flew an average of two to three missions each week, often on consecutive days. Stiles tells of bombing strategic targets in Germany, V-1 "buzzbomb" launch sites, and targets in France in preparation for Operation Overlord, or D-Day.
Unlike other published mission logs, Serenade to the Big Bird reveals the day-to-day activities, the hours of boring flight to the targets, the moments of terror caused by flack and enemy fighters, the climactic bomb run, and the long hours of flight back to the airdrome. The author touches on random thoughts while piloting the bombers, the disillusionment in their missions, the moments of sudden realization that a comrade you saw at breakfast won't be returning, and the overwhelming weariness experienced by the bomber crews.
Stiles also outlines his dreams for a future that does not include war…a future he ultimately does not get to experience. After the completion of his 35 missions in the B-17, Bert Stiles refused a transfer to the US as a flight instructor and instead transitioned to the P-51 Mustang fighter. During his 16th mission in his second tour, Stiles was killed in enemy action at the age of 23 while flying a bomber support mission.
His journal-style memoir, Serenade to the Big Bird, was published posthumously.
DOWNLOAD
(Buy premium account for maximum speed and resuming ability)