SQLite Maestro Professional 21.5.0.2 Multilingual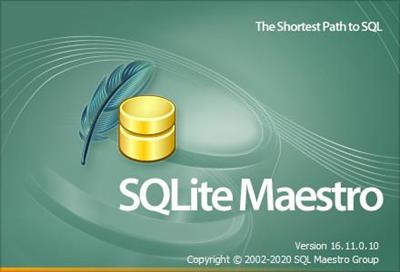 SQLite Maestro Professional 21.5.0.2 Multilingual
32 Mb
SQLite Maestro is the premier Windows GUI admin tool for development and management of SQLite databases. It allows you to make all the database operations easy and fast. Using SQLite Maestro you can operate database objects, build queries visually, represent databases as ER diagrams, execute queries and SQL scripts, view and edit data including BLOBs, represent data as diagrams, compose OLAP cubes, export and import data to/from most popular file formats, and use a lot of other tools designed for the easiest and most efficient work with SQLite server.
Easy database management
SQLite Maestro allows you to create and drop databases quickly. Database profiles give you the opportunity to connect to databases in one touch and work with the selected databases only.
Powerful database object management
SQLite Maestro provides you with an ability to manage database objects. For example, you can perform operations with a group of objects as well as with a single object in Object Manager, sort, group and filter the database objects within Object Browser, copy an object from one database to another by a drag-and-drop operation inside the explorer tree, use Windows clipboard to copy a set of objects and so on.
Working with tables and table subobjects
SQLite Maestro wizards and editors allow you to create, edit and drop tables as well as their fields, indexes, triggers and foreign keys in a couple of simple operations.
Building and executing queries
SQLite Maestro provides two powerful tools which allow you either to edit query text directly with syntax highlighting and code completion or to build a query diagram visually selecting tables and fields, setting links between tables and so on.
Support of the latest SQLite features
Use SQLite Maestro to work with SQLite 2.8/3.x! Among other features and objects implemented in the latest versions of the server, our software supports pragma commands, "on conflict" actions that were implemented in SQLite 3.0, and much more.
Powerful data management tools
With SQLite Maestro you can view and edit table data (including BLOB fields), export and import data to/from MS Excel, MS Access, DBF, XML, TXT, CSV and other formats, get SQL data dump and more.
Work with database metadata
SQLite Maestro provides you with a number of tools for working with database metadata and SQL scripts, including code folding.
System Requirements:
Pentium PC or higher;
Windows NT4/2000/XP/Vista/Windows 7/Windows 8/Windows 10;
1 GB RAM (2 GB or more is recommended);
50 MB of free hard disk space;
SVGA-compatible video adapter.
DOWNLOAD
(Buy premium account for maximum speed and resuming ability)